Overview
Plantar fasciitis is a condition that causes heel and arch pain through inflammation on the bottom of the foot. The part that's inflamed (swollen) is actually the plantar fascia, which is the connective tissue or ligament that stretches from the base of the toes, across the arch of the foot, and inserts into the heel bone. This painful condition can interfere with your daily activity and severely decrease your quality of life.
Causes
Patients with tight calf muscles will suffer with excessive pulling of the muscle group on the back of the heel. This in turn creates pulling of other structures that are attached to the heel, including the Plantar Fascia. When the pulling continues for long enough, then inflammation will develop and lead to Plantar Fasciitis. This causes Heel Pain. It is extremely common for patients who increase their level of activity to develop Plantar Fasciitis. Boot camp, running, zumba, recreational walking or other quick movement sports such as tennis or touch football are typical causes of Heel Pain. The sharp increase in exercise is too much for the foot to cope with and the stress on the Plantar Fascia causes inflammation. The Heel Pain that is caused by this inflammation is known as Plantar Fasciitis.
Symptoms
Plantar fascia usually causes pain and stiffness on the bottom of your heel although some people have heel spurs and suffer no symptoms at all. Occasionally, heel pain is also associated with other medical disorders such as arthritis (inflammation of the joint), bursitis (inflammation of the tissues around the joint). Those who have symptoms may experience 'First step' pain (stone bruise sensation) after getting out of bed or sitting for a period of time. Pain after driving. Pain on the bottom of your heel. Deep aching pain. Pain can be worse when barefoot.
Diagnosis
Your doctor may look at your feet and watch the way you stand, walk and exercise. He can also ask you questions about your health history, including illnesses and injuries that you had in your past. The symptoms you have such as the pain location or when does your foot hurts most. Your activity routine such as your job, exercise habits and physical activities preformed. Your doctor may decide to use an X-ray of your foot to detect bones problems. MRI or ultrasound can also be used as further investigation of the foot condition.
Non Surgical Treatment
There are several things you can do to self-treat your heel or arch pain. The first thing is to wear better shoes and consider adding arch supports or custom foot orthotics to your shoes. Stretching the calf muscles can also often be helpful. Try to stretch when you first get up in the morning and before you go to bed at night. Another good exercise is to "roll" your arch and heel. This is done by placing a tennis ball, golf ball, or lacrosse ball on the floor and rolling your foot on top of it. Some people get extra benefit by "rolling" on a frozen water bottle. You should also carefully evaluate your fitness program as you may be overdoing it. You may want consider backing of new or recently added exercises or increases in training until your heel pain improves. If you work at a standing job try to take more time to walk around during the day and avoid standing in one place for too long.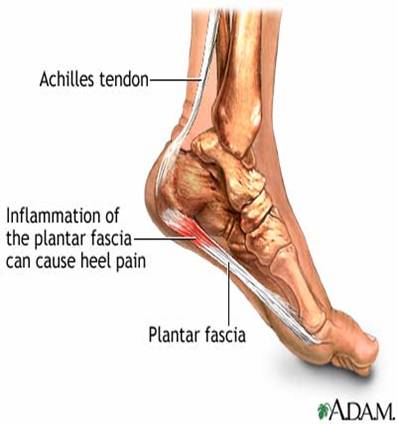 Surgical Treatment
Although most patients with plantar fasciitis respond to non-surgical treatment, a small percentage of patients may require surgery. If, after several months of non-surgical treatment, you continue to have heel pain, surgery will be considered. Your foot and ankle surgeon will discuss the surgical options with you and determine which approach would be most beneficial for you. No matter what kind of treatment you undergo for plantar fasciitis, the underlying causes that led to this condition may remain. Therefore, you will need to continue with preventive measures. Wearing supportive shoes, stretching, and using custom orthotic devices are the mainstay of long-term treatment for plantar fasciitis.